What is Body Blast?
Body Blast is a 30 minute high intensity barbell class designed to challenge every component of fitness. Not only will you get stronger and fitter but you will see remarkable changes to your body shape. We use programs not only to burn fat and get you aerobically fitter but we also focus on creating a strong lean physique.  The great thing about Body Blast is what we call 'the after burn'. This is because we are performing strength based exercise, so not only will you burn calories throughout the session but you will continue to burn calories when you get home and put your feet up!
Once you have left a Body Blast class you will feel as if you have just completed an hours training session!
Don't believe me? Come down and try it for yourself!
What does it Cost?
1 session per week £2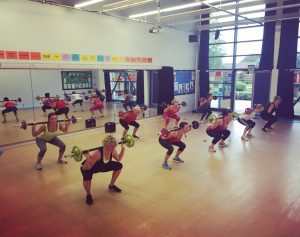 2
3 sessions per week £35
Paid in 4 week blocks
How do I book a session?
Simply  call or text   07746 897893
Email darrell@dmffitness.com
Or click HERE to book online